"Above the Influence" Travels to Xtreme Leadership Conference in Clinton, IA
The Clinton Substance Abuse Council, New Directions and the "Above the Influence" (ATI) campaign joined nearly 150 youth from seven local middle schools at the X-Treme Leadership Conference at Ashford University on November 3, 2011.  Clinton area youth participated in interactive sessions led by the ATI team and Clinton Students for Tobacco Education and Prevention (CSTEP).  The popular ATI "Tag-It" activity, and the campaign's newest activity, "Be-It," offer new ways to engage youth in a dialogue about the negative effects of substance use and how to rise above the pressures they face in order to make healthy decisions.
The youth spent a portion of the afternoon "tagging" negative influences they face in their daily lives, and documenting their "tags" with unique photographs loaded to a Flikr feed.  The teen-generated photos were then printed in real-time to create a large "Above the Influence" collage. The collage is now permanently housed at the Clinton Substance Abuse Council.
For the "Be-It" activity,  youth were challenged to create their own personal slogan that empowers them to "be" the positive influence for their peers.  Teens then voted on the best slogan of the bunch for a chance to feature the winning slogan in advertising around the Clinton, IA community.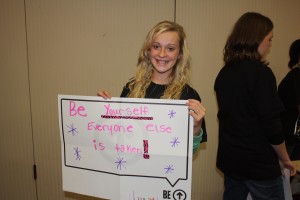 Following the daytime activities at the youth conference, local community organization members and representatives from ONDCP discussed how the mission of "Above the Influence" can be expanded  locally to further engage teens on the topic of influence and promote safe and drug-free environments.