"Above the Influence" at Domeshift 2012 in Springfield, IL
More than 100 youth – handpicked by their peers across Illinois – participated in DomeShift, an annual two-day event aimed at arming students with advocacy training skills to activate change within their communities. During the event, which took place April 17-18, 2012, students visited the state capitol building to talk with their legislators about community issues that are important to them. Illinois Students Against Destructive Decisions (SADD) and local non-profit, Prevention First, joined together again this year to plan and host the event as part of their shared vision to promote healthy drug-free communities.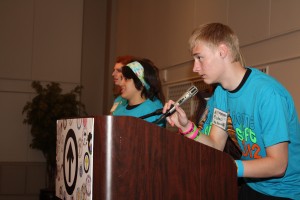 This year, the "Above the Influence" team joined the event to conduct a teen panel discussion and activity workshop. Teens were surprised when they entered the DomeShift check-in area, which had been transformed into the "ATI Experience," with inflatable furniture, an oversized co-branded backdrop, rugs, tables, lamps and posters. Teens instantly flocked to the space to take photos as they waited for the fun to begin – the ATI activity session.
During the ATI activity session, teens participated in the campaign's youth activities, "Tag It" and "Be It." The activities help teens to build an awareness of the influences around them – including the pressure to use drugs and alcohol or drive distracted – as well as ways to take a stand against such pressures. Select teens also participated in an engaging panel discussion, sharing their personal stories about why they live above the influence.
It was evident that the young leaders at DomeShift truly embraced the ATI lifestyle. As a special addition to the ATI activity session, the team showcased and recognized IL SADD student advisory board member, Jeff Oeters, for his "Be It" slogan – "Be true, be you" – which was featured on billboards around the community.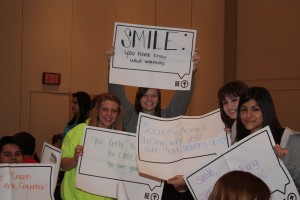 Elsewhere at the event, parents and substance abuse prevention experts from across the state participated in a panel discussion moderated by the partners. The panel focused on the negative influences that are introduced to teens through online media channels and how "Above the Influence" challenges teens to rise above those influences through its own social media platform and activities. The panel discussion also revealed the great value of local partnerships and how they allow ATI to impact teens around the country.
The ATI presence at this event helped attract local media coverage in the Springfield Journal-Register and on ABC affiliate WAND-TV.