Sitar Arts Center Youth "Express It" with ATI
In May 2012, the Media Campaign joined the Sitar Arts Center in Washington, DC, to celebrate the launch of "Above the Influence's" new activity – "Express It." The activity calls on teens to create a short skit, poem, song, or dance that educates and inspires them and their peers to live "above the influence." 
The Sitar Arts Center is a community arts organization that offers music, dance, drama, writing and visual arts programs to area youth, and its Annual Open Mic Night provided an ideal forum for participating teens to use creative expression to shine a light on the issues and influences impacting youth in their community.
"The ATI message really complements the Sitar Art Center's mission because at Sitar, the kids find out who they are," said Maureen Dwyer, Executive Director, Sitar Arts Center.  "Once you know who you are, you're able to choose the right path, and in my opinion, there's no better way to do that than through artistic expression.  Because you explore your gifts, you explore who you are, and then you show the world."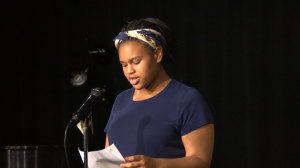 The ATI activities provide alternatives to a "sit-down, serious" conversation about drugs and alcohol. "Express It" asks teens to use an artistic outlet to explore what it means to live life 'above the influence,' in some cases without the use of words. The use of this activity may engage a teen that does not feel comfortable participating in discussions.
"Everyone has his or her own unique experience in life, and that's why they are who they are…  I think that art has really helped me to express who I am," said Forrest, 17, Capitol City Public Charter School. "Art allows a person to be different, which is good."
The students, many from disenfranchised communities, developed their "Express It" performances while participating in Sitar's after-school program, rehearsing and fine tuning them each afternoon in preparation for the big night.  "Express It" can be implemented as an on-going project with a performance ending, like with the Sitar Arts Center, or it can be used as a simpler, one hour activity.