"Above the Influence" Dodges with Peabody Teens
On March 14, ONDCP's "Above the Influence" campaign traveled to Peabody, MA, to partner with the Healthy Peabody Collaborative (HPC) and Peabody Veterans Memorial High School (PVMHS) to infuse the air of a professional sporting event into the high school's annual dodgeball tournament. ONDCP Deputy Director Ben Tucker served as the guest Master of Ceremonies at the event with more than 1,200 spectators and 200 competing teens decked out in thematic costumes.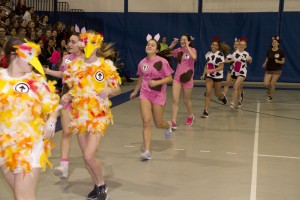 Deputy Director Tucker kicked off the night with a pep talk to the competing teams before they went crashing through ATI-inspired banners and onto the court. He also addressed an enthusiastic crowd of spectators about the positive influence of sports and extracurricular activities in teens' lives, as well as the importance of community partners like HPC. Deputy Director Tucker also jumped in on the dodgeball game action, providing sideline commentary throughout the tournament.
The interactive event included live, real-time polling run by HPC. Questions like "What is the most positive influence in your life?" and "Do you participate in an extracurricular activity?" were shown on a jumbo screen and teens in the audience responded by text message to place their votes. The jumbo screen displayed the results of the poll questions as responses came in. Also featured at the event were four youth-based performances, live sideline interviews with competing teens and audience members that were conducted by teen reporters, and a half-time flash mob.
Deputy Director Tucker closed the night by taking photos with the winning team, The Replacement Refs, at the award ceremony. He also met with Peabody Mayor Ted Bettencourt, HPC Outreach Coordinator Sandi Drover, HPC Executive Director Sara Grinnell, and Peabody Deputy Chief of Police Marty Cohan.  This event successfully brought together teens and their community for a night "Above the Influence."
Check out the new event videos and a few pictures from the day's events below!
  PVMHS Dodgeball Tournament Event Overview Video
  PVMHS Partners:  Bringing ATI to Our Community
  PVMHS Teens: Living "ATI"